Black Friday, Cyber Monday and Gift Card Fraud Can Make for Unhappy Holidays
Nov 20, 2018, 11:04 AM by Nuvision Credit Union
Follow some basic guidelines to steer clear of cybercriminals, crooks and thieves
The great holiday shopping season kicks off this week with Black Friday and continues through Cyber Monday. And if last year was any indication, then 2018 is shaping up to be a massive opportunity for cybercriminals, crooks and thieves.
While many of us will brave the crowds and visit a mall or outlet, others will start their gift-buying online. Most shoppers now do a combination of both.
It's not hard to shop safely, but the bad guys are always on the lookout for shoppers who may be inattentive or lazy because they can be easy targets for holiday fraud, phishing and scams. Follow some basic guidelines, however, and you can feel much more comfortable about having happy holidays.
Busy shopping weekend
Last year, the National Retail Federation predicted that about 164 million consumers would shop in person or online over the unofficial start to the holiday shopping season. That estimate turned out low. The NRF reported than more than 174 million Americans shopped in stores and online from Black Friday through Cyber Monday. That means nearly three-quarters of American adults shopped online or in person over Thanksgiving weekend.
Of course, Thanksgiving weekend accounts for only a portion of overall holiday shopping. In 2017, Americans spent $335 over the five-day weekend, but consumers planned to spend about $967 during the entire holiday season. This year, the NRF annual holiday shopping survey shows that consumers will spend over $1,000, which is a 4.1 percent increase over 2017.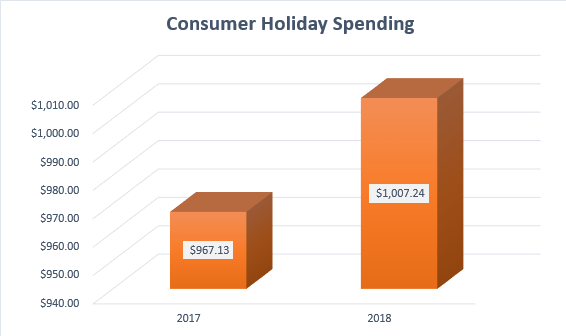 Data from National Retail Federation and Prosper Insights & Analytics

Fraud and online shopping

Online shopping is extremely convenient and often now preferred to visiting brick-and-mortar stores. In fact, TheStreet.com reported that online sales on Cyber Monday last year accounted for $2.7 billion in sales taxes compared to $1.3 billion on Thanksgiving, $1.97 billion on Black Friday, and $2.5 billion on the Saturday and Sunday after Thanksgiving.

Online shopping is convenient, but it can also increase your risk of fraud, phishing and scams, as well.

Experian recently conducted a survey and found:
8 percent of consumers reported being a victim of identity theft during the holiday season.
43 percent of consumers who had their identity stolen say it happened while shopping online during the holidays.
FRAUD TIP:
Avoid clicking on links in emails for shopping deals. Instead, visit the store's website directly.
Pay by credit card. Your transaction will be protected by the Fair Credit Billing Act. You can dispute charges under certain circumstances and temporarily withhold payment while the creditor investigates them. If someone uses your credit card without your permission, your liability generally is limited.
Don't email any financial information. Email is not the best means of secure communication. Your information can be intercepted, especially if you're using public Wi-Fi.
Malicious apps

Holiday shopping is also a magnet for cybercriminals looking to cash in on fraudulent digital and mobile technology. For example, researchers found hundreds of malicious apps pretending to offer discounts, according to CNET:
Researchers looked up "Black Friday" in app stores, and found that 237 of 4,324 results were malicious, and 44 out of 959 "Cyber Monday" apps were also malicious, RiskIQ said. For the top 10 retailers of Black Friday in 2017 -- which RiskIQ declined to name -- researchers found 6,615 malicious apps pretending to offer deals.
FRAUD TIP:

Download apps only from Google Play and the App Store on iTunes. Shopping apps may need you to create a password, but be wary of an app if it asks for contacts, login or password from other accounts or apps.
Gift card scams
Gift card scams come in different shapes and sizes. For example, the Chicago branch of the Better Business Bureau was targeted. One of the employees received an email that appeared to be from her boss, the head of the Chicago BBB. The email asked her to purchase gift cards for the rest of the employees of his office. She became suspicious and reported it to her boss, but this is a common scam that only needs a fraction of recipients to fall for it in order to be successful.
Fraud.org reported that it has seen, "spike in news reports about gift card scams." A recent gift card scam alert noted:
A typical scam scenario begins with a consumer receiving a gift card as a present from a friend, colleague, or loved one. When the recipient goes to use the card they assume is loaded with funds, the card gets declined. Unbeknownst to the gifter or the card recipient, before the card's purchase, a scammer had taken the card off the rack at a retail location, copied down the card number, scratched off and recorded the security codes on the back of the card, and once the card was activated, drained its funds via online purchases.
FRAUD TIP:
Look for gift cards with substantial packaging. Gift cards that do not have security packaging - which prevents access to the actual gift cards - are easy targets for scammers. Savvy consumers should avoid purchasing these cards at all costs.
Carefully inspect its security packaging. If there are any signs tearing or peeling or if it is not in mint condition, do not purchase it.
If you must purchase a gift card without security packaging, carefully inspect the foil tape over the PIN. Tape that is crooked, too large, or that appears to have been reapplied are all giveaways that the card may have already been compromised.
Consider only buying gift cards online. While gift cards that have secure packaging are better than those without, purchasing a card online reduces the chance that a card has been compromised, since scammers are unlikely to have had access to the card as they would in a public store. If you are looking for more security, take the time to order a gift card from your chosen merchant's official website.
Keep your receipt and give it to the gift card recipient. Providing a receipt for the gift card gives the recipient some negotiation power if the gift card has been compromised, since it will show that it was properly loaded at one time.

Shop on a secure website
Shop on a secure website – this is as elementary as it gets. Patrick Nohe, the editor-in-chief for cybersecurity website Hashed Out, wrote in a recent post:

As of July 2018, the entire internet should be using HTTPS. It should be the default setting now. The baseline. So any website that you arrive at that isn't using HTTPS – especially in the context of holiday shopping – is not providing a safe online shopping experience and should be categorically distrusted.

Importantly, Nohe notes, HTTPS isn't foolproof. "While HTTP is categorically bad, HTTPS is not categorically good." Look for clues to a dubious website.
FRAUD TIP:
Examine the URL (the part that should begin https://). URLs that are very short and don't adequately identify the website can be suspicious.
A complex URL is a bad sign. If a URL is overly complicated, includes a lot of hyphens, or seemingly random numbers or letters, be cautious.
If the website offers deals that seem too good to be true, they probably are.
Unprofessional websites. A website might be fake is if it includes spelling mistakes and incorrect grammar.
SEE: 5 Ways to Determine if a Website is Fake, Fraudulent, or a Scam - 2018

Keep antivirus software current and report fraud

Finally, make sure your antivirus software on your computer is up-to-date. If you become a victim of online shopping fraud, file a complaint with:

Stay on top of fraud trends and news

Nuvision is your credit union resource for alerts, news, and information about fraud, identity theft, financial and data protection, and cybersecurity. Learn about fraud protection and follow Nuvision on Facebook and Twitter to receive updates when new articles are published.