Hurricane Florence May Flood Your Email with Donation and Charity Fraud
Sep 19, 2018, 14:08 PM by Nuvision Credit Union
Natural disasters are all too often devastating for people, property, and communities. The pictures of destruction and damage can evoke strong emotions. The plea for help and financial aid can tug on your heart strings.
But beware. Natural disasters like Hurricane Florence that hit the east coast brought a storm surge that caused widespread flooding and 32 deaths, as reported in the Los Angeles Times. Hurricanes and other natural disasters can also cause cybercriminals and scam artists to flood your email and your inbox with donation and charity fraud.
Read on for tips about how to donate wisely and avoid scams.
Opportunity for criminals
The United States is one of the most charitable nations on earth.
By one measure, the U.S. is the fifth most generous country when considering factors such as helping strangers, donating money, and volunteering time. Another report lists the U.S. the No. 1 most charitable country with the highest rate of donations as a percentage of gross domestic product. Americans donated 5.2 percent more in 2017 than they did the previous year and set a record, giving more than $400 billion for the first time. Most of that came from individuals, with $286.7 billion – more than the combined amount from foundations, bequests and corporations.
So, Americans love to give to charity and donate money. But, as always, where you find lots of money you can also find criminals, cyberthieves, fraudsters, and scam artists trying to take advantage of the opportunity.
Watch out for charity fraud
In August, Nuvision warned about imposter scams that target veterans and military charities and support organizations. Many of the same warnings apply to disaster relief. The Federal Trade Commission offered the following infographic about how to donate wisely and avoid scams: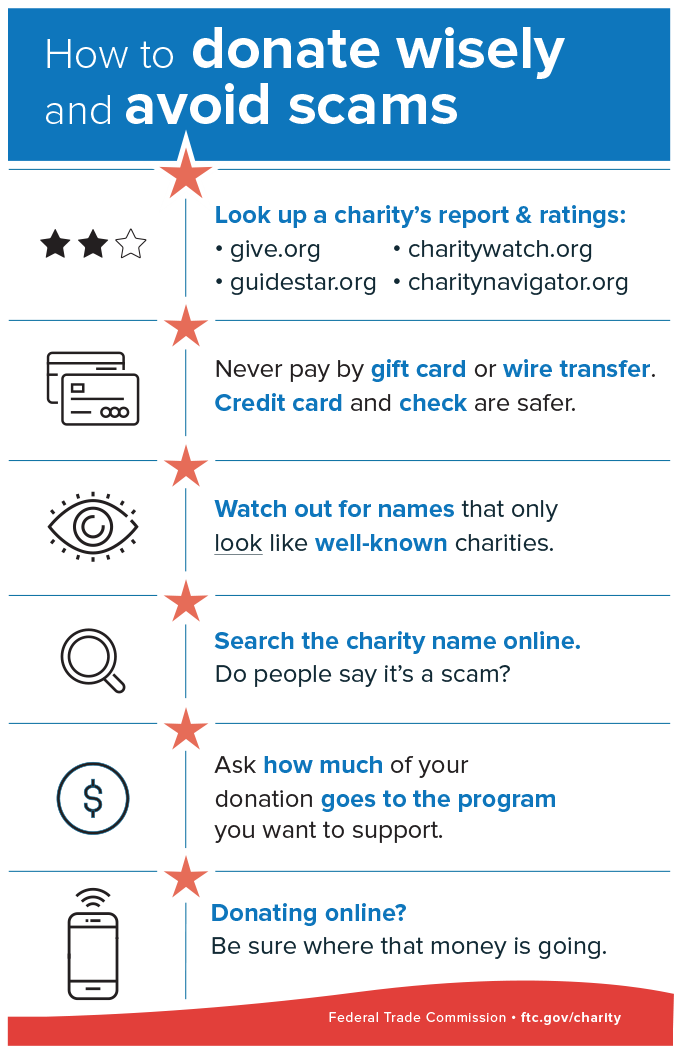 Specifically in anticipation of hurricane season, the FTC has issued warnings to avoid hurricane relief charity fraud. Atlantic hurricane season, which affects the east and southeast United States and the Caribbean, typically runs from June 1st to November 30th.
In addition, here is a graphic that can help verify a hurricane relief charity: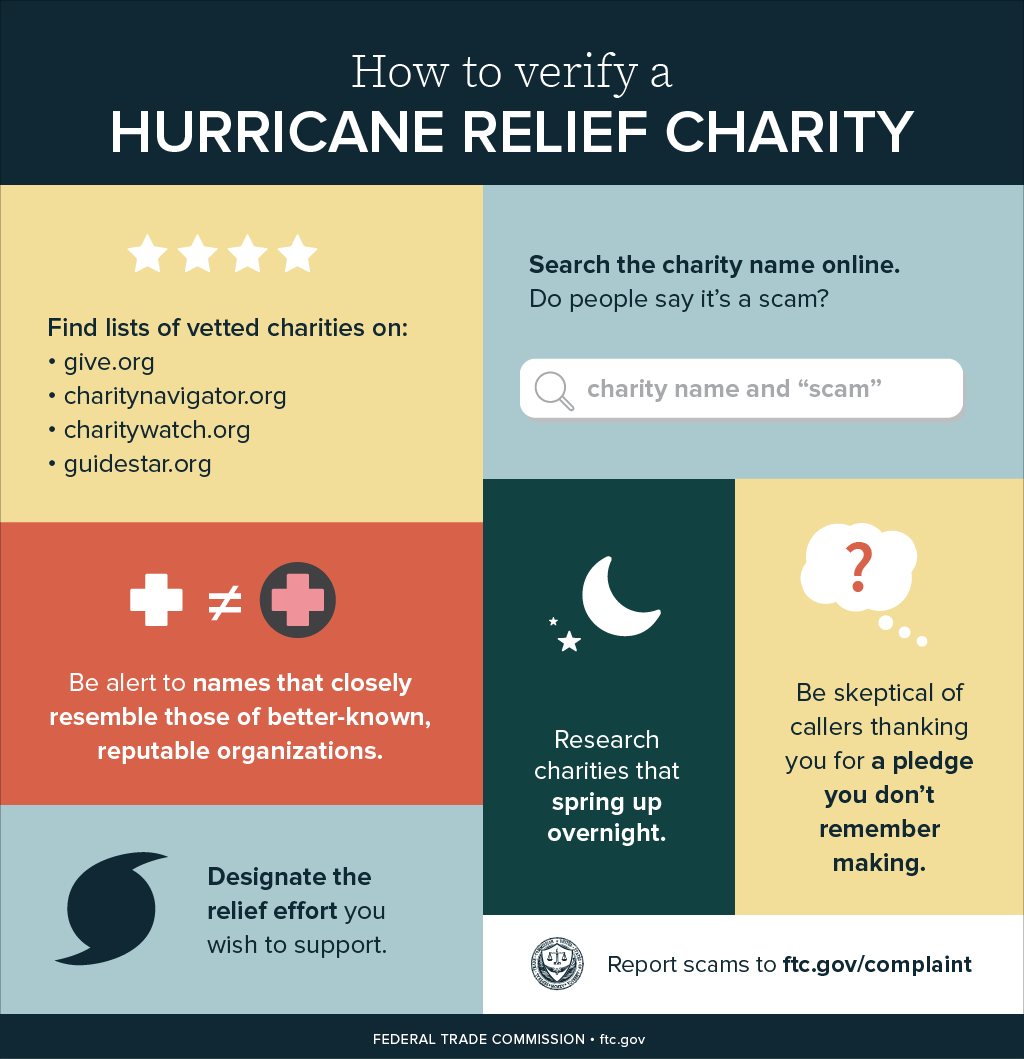 The FTC also recommends several steps to avoid charity scams:
Research the charity;
Find out how much goes to the charity;
Look up the ratings/report; and
Never pay by gift card or wire transfer.
Donating after other disasters
In California, Alaska, and much of the western U.S., where Nuvision's offices are located and our members live and work, we live in anticipation of the next earthquake. We also live in an area vulnerable to wildfires. Many of us donate to earthquake relief or wildfire recovery organizations.
The Better Business Bureau Wise Giving Alliance has some basic giving tips, as well as specific suggestions when providing to disaster relief donations:
Be cautious when giving online.
Rely on expert opinion when it comes to evaluating a charity.
Understand crowdfunding.
Be wary of claims that 100 percent of donations will assist relief victims.
Find out if the charity has an on-the-ground presence in the impacted areas.
Find out if the charity is providing direct aid or raising money for other groups.
Gifts of clothing, food or other in-kind donations.
National Disaster Preparedness Month
September is National Disaster Preparedness Month. Hopefully, you and your family won't be a victim of a natural disaster and you will never need the giving and charity to help recover from an event that destroys your home or your community.
However, as an old English idiom says, you should hope for the best and prepare for the worst.
The Department of Homeland Security, in partnership with the White House, the Federal Emergency Management Agency, and other government offices, has provided a list of resources to help prepare at https://www.ready.gov/september.
How to report disaster fraud
If you receive a suspicious solicitation for a disaster donation, are contact by a charity or organization with which you aren't familiar, or think you've been scammed, you need to report it.

Alternatively, you can contact the National Center for Disaster Fraud, which is run by the U.S. Department of Justice. In fact, NCDF was established in 2005 after Hurricane Katrina, and has received more than 92,000 complaints relating to disaster fraud.

Fraud trends and news

Nuvision is your credit union resource for alerts, news, and information about fraud, identity theft, financial and data protection, and cybersecurity. Learn about fraud protection and follow Nuvision on Facebook and Twitter to receive updates when new articles are published.