Welcome to Nuvision Credit Union
On behalf of the entire Nuvision team, I'd like to personally welcome you to Nuvision Credit Union.
We are grateful to have been selected by Shyann Federal Credit Union as the partner who is responsible for continuing a long tradition of caring for their members, and we are very excited to have you as a Nuvison member!
For the past 80 years, Nuvision has grown to include hardworking professionals from Douglas Aircraft, Southern California Gas Company, Union Pacific Railroad employees, Cheyenne VA Medical Center employees, and folks from all over the regions we serve. Bringing Nuvision's unique brand of Credit Union banking into Wyoming has been an exciting chapter in our evolution, but is still built on the original idea and tradition of people helping each other build a better life. We take pride in the fact that we've been a strong partner, helping our members with important financial decisions and future life goals.
Nuvision has proudly hosted, and will again this year, a gas giveaway and lunch in Cheyenne on Memorial Day. This event is Nuvision's way of showing our appreciation, giving thanks from the Cheyenne community to the men and women of the armed forces who have sacrificed much to protect our country.
You have our commitment that we will do everything possible to make your transition to Nuvision an easy experience, and we hope you will take a moment to visit our website (Nuvisionfederal.org) to learn more about the expanded opportunities that Nuvision can offer you. Some benefits include access to enhanced online services, two additional local branch locations, ATM machines, and an experienced mortgage team that is dedicated to making your next home purchase a hassle-free and satisfying experience.
You will be receiving several communications in the weeks to come with details of the conversion, as well as information about who to contact should you have questions or need assistance. Once again, welcome to Nuvision; we look forward to serving and helping you with the life you build.
Sincerely,
Roger Ballard
Chief Executive Officer
Nuvision Credit Union
How to Prepare
We've created a variety of resources to assist with the transition to Nuvision Credit Union. Should you have questions that aren't answered in the resources below, feel free to contact your local branch.
---
Checking Accounts:
On Monday, June 17th, 2019 your checking account will automatically transition to our Frontier Checking, a checking account designed for our members who need an everyday checking account for their basic banking needs. Enjoy no monthly fees, no minimum balance requirements, free online and mobile banking services, and more!
To Order New Checks: Click Here
NEW ROUTING NUMBER:
Your New Routing Number is: 322282399
Debit & ATM Cards
You will receive your new debit and or ATM card no later than Monday, June 17, 2019.

IMPORTANT:
Continue to use your Shyann FCU Debit card through Sunday, June 16, 2019.

BEGINNING JUNE 17, 2019
Call 800.992.3808 to activate your Nuvision Debit card. Once you have activated and tested your Nuvision debit card, please destroy your existing Shyann FCU debit card.
You will be able to establish your Personal Identification Number (PIN) during card activation.
---

Nuvision Online Banking Setup
Beginning Monday, June 17, 2019
1. USER INFORMATION
Navigate to nuvisionfederal.com
In the USERNAME BOX enter your New Member Number (Your member number will be provided to you in a separate mailing)
In the PASSWORD BOX enter the last 4 digits of your SSN
The next page will have you setup the online access.
2. SETUP
Create your Unique User Name (cannot be your member number)
Change your password
Confirm your email and contact information.
Proceed to Login
3. LOGIN
You will be prompted to receive a 6 digit validation code by email or phone.
Enter the code received and select either this is a public computer or private computer.
Note: if selecting private computer this will save the computer as an authorized device in which you will not be prompted to validate with the 6 digit code upon next login.
Cheyenne Branch Locations
If you have any questions, we are here to help. Please contact us:
414 E. 18th Street
Cheyenne, WY 82001
800.325.7038
307.632.1476
3485 Converse Ave.
Cheyenne, WY 82001
800.747.2490
307.632.8111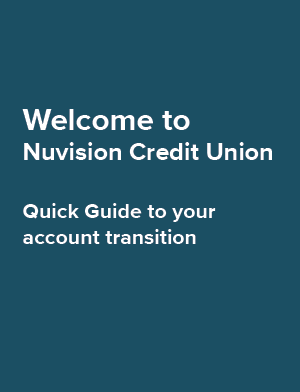 Welcome Shyann Federal Credit Union to Nuvision Credit Union
Quick Guide to your account transition.
On June 17, 2019, your account(s) will automatically convert to Nuvision Credit Union account(s). We want to ensure your transition is smooth, so please read this guide to know what to expect, what existing services require your attention and what new services will be available.